We'll clean your windows thoroughly and safely.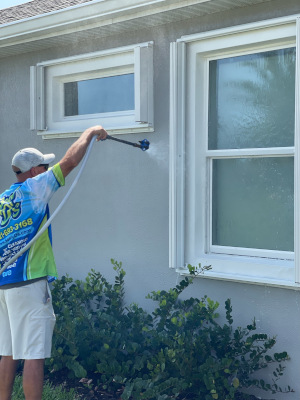 Looking for a professional and reliable window cleaning service for your Melbourne, Florida home? Look no further than our expert team at Soapy D's Exterior Cleaning LLC! We specialize in providing top-notch residential window cleaning services that will leave your windows sparkling and your home looking its best.
We understand that your home's exterior appearance is just as important as the interior, which is why we offer top-notch exterior window cleaning services to help your home look its best. Clean windows make your home or building look more attractive, both from the outside and inside. This can improve its overall curb appeal and create a positive first impression for visitors, potential buyers, or renters.
Our exterior window cleaning services include cleaning all of the windows on the outside of your home, including hard-to-reach areas like upper-story windows and skylights. We use only the best equipment and cleaning solutions to ensure that your windows are sparkling clean and streak-free without causing any damage to your home's exterior.
Safety is a top priority for us, and our experienced professionals are fully trained using the SoftWash Systems training program. SoftWash Systems' cleaning solutions are formulated with biodegradable and eco-friendly ingredients. They are designed to be gentle on surfaces while effectively removing dirt and grime and are safe for use around plants and animals when used properly.
When you choose our exterior window cleaning services, you can rest assured that your windows will be cleaned thoroughly and safely. Contact us today to learn more about our external window cleaning services or to schedule an appointment!