We'll make your roof look like new!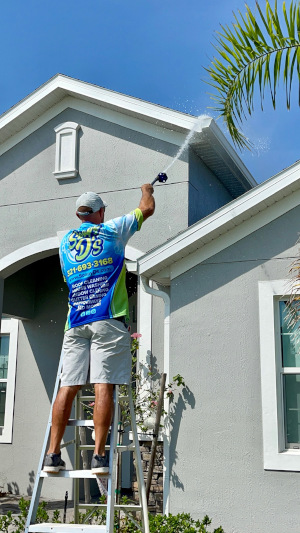 Are you tired of looking at a dirty and stained roof on your residential or commercial building? Do you find yourself wishing for a long-lasting roof cleaning option that won't damage the material of your roof? Our experienced team of professionals is here to help!
At Soapy D's Exterior Cleaning LLC, we use the latest soft washing techniques to gently remove dirt, stains, and other contaminants from your roof's surface, leaving it looking as good as new. Our soft wash roof cleaning techniques are highly effective and safe for all types of roofs, including asphalt shingles, metal, tile, and more.
Our affiliation with SoftWash Systems allows us to use their equipment, solutions, and training techniques, so you can rest easy knowing your roof is in good hands. Although traditional pressure washing is an excellent option for some surfaces, it can damage delicate roofing materials. The low-pressure soft washing method we use will gently clean your roof while preserving its integrity and longevity. We offer a five-year spot-free warranty on our roof cleaning services that is backed by SoftWash Systems.
We understand that your time is valuable, so we make it easy to schedule and complete your roof cleaning services. Our team will work around your schedule to find a convenient time for you, and we'll complete the job quickly and efficiently so that you can get back to your daily routine.
If you're looking for a reliable and effective way to maintain the appearance and longevity of your roof in the Melbourne, Florida area, reach out to us to schedule an appointment or get a quote.