Soapy D's
Exterior Cleaning LLC
The answer to all your exterior cleaning needs.
Welcome to Soapy D's Exterior Cleaning LLC,
your trusted outdoor cleaner in Brevard County
At Soapy D's Exterior Cleaning LLC, our goal is to be the most trusted exterior cleaning service in Melbourne and the rest of Brevard County, Florida. We understand that the exterior of your home, commercial building, or office is the first impression that people have of your property. That's why we take our work seriously and do every job with the utmost care and attention to detail.
Our Services
Our exterior cleaning services are perfect for removing dirt, grime, mold, and other debris that can build up on exterior surfaces over time. Whether you need your roof, pavement, fence, windows, or entire home exterior cleaned, we have the experience, expertise, and equipment to get the job done right.
Choosing us for your window cleaning needs means you'll get outstanding service and sparkling clean windows.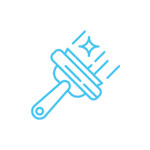 With our specially formulated roof cleaning solutions, we can keep your roof looking its best.
Why Choose Us?
The cleaning solutions we use are formulated with biodegradable and eco-friendly ingredients. They are designed to be gentle on surfaces while effectively removing dirt, grime, and other contaminants. These solutions are also safe for use around plants and animals when used properly.
We're SoftWash Systems Certified
SoftWash Systems is a leading provider of soft washing equipment and solutions for professionals in the cleaning industry.
5-Year Spot-Free Roof Warranty
We prioritize your continued satisfaction and offer a five-year spot-free warranty on our roof cleaning services.
Safety Is Our Priority
In addition to using environmentally friendly exterior cleaning products and practices, all of our employees pass a criminal background check with The Seal.
Fabulous experience. Not only is Dan the nicest person, but his work is impeccable. Cleaned up all the gross outdoor things I wished would disappear (spider nests, dead bugs, webs, and dirt). My pool lanai looks amazing. The best surprise was how clean the windows and screens were. I had no idea how dirty those could get. I looked outside and didn't realize my slider was even closed because it was so crystal clear. Thank you, Dan!
– Gina M.
Went way above and beyond what I would have expected him to do. Dan literally hand washed the majority of my home in an effort to protect my stucco. His attention to detail was incredible; he even missed the tiniest little web and went back to his truck for a ladder so he could get it. I was honestly blown away by the experience. Soapy D's Exterior Cleaning LLC was also much more affordable than other quotes that I had gotten! I am very selective when I hire out work and can honestly say that I'd hire them again and again.
– Dawn D.
We had Soapy D's Exterior Cleaning LLC do spot cleaning on our driveway, sidewalk, and pool deck, plus all the outdoor windows. Dan, the owner of the company, has done a fantastic job. He not only explained how the cleaning gets done in detail but also did it thoroughly. The price is reasonable, and the result is great. We definitely will use their service again next time. Thank you, Dan.
– Haishan M.


Get In Touch
Soapy D's Exterior Cleaning LLC
So why wait? Give us a call or fill out our online contact form today to schedule your exterior cleaning service and take the first step in restoring your property's beauty and curb appeal. We look forward to working with you!